July 20, 2009
DEPH Rolls with Kidrobot at SDCC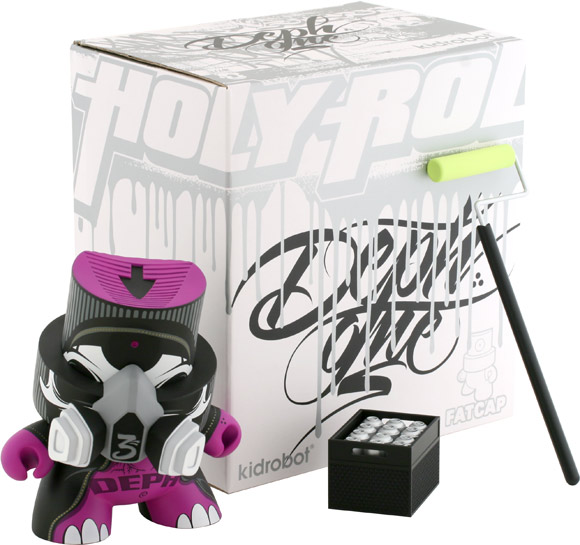 LA-based graffiti artist, illustrator and painter, DEPH talks with us about his San Diego Comic-Con release of the 6-inch Holy Roller FatCap.
Be at Kidrobot booth #4529 early for the 11am-1pm signing, Friday July 24 to meet the artist and snag this rare figure.
Can't make it to SDCC? The Green Edition of this killer piece of vinyl goes on sale Thursday, July 23 at 11am local time at Kidrobot stores and 11am EST on kidrobot.com.

Kidrobot: What is so Holy about the Roller?
DEPH: I came up with the name from the concept behind it, "Dia De Los Muertos" or as us Americans call it, "Day of the Dead." The FatCap features a robe style cape with gold beads along the trim like you would see on the beautiful Virgin Mary, however in place is a Graffiti Roller character that destroys the cities with HUGE Roller letters and a crate of paint to finish it all off with a classic tag or throw up.
Kidrobot: Will getting this toy prevent you from getting caught by the cops?
DEPH: Sure will. Carry this bad boy everywhere you go. Its like going bombing and having a rosary in your hand at the same time. Even Flava Flav turned in his clock for one.
Kidrobot: Underneath that gas mask, the Holy Rollers are looking a little gaunt. Is tagging bad for your health?
DEPH: Gaunt? Is this a word? Yeah it's bad for your health, but so is the air I breathe. It's a heck of an adrenaline rush though. George W. is bad for my health too.
Kidrobot: While at SDCC, what's on your must-see list?
DEPH: For sure all the LARPing (Live Action Role Playing). Also, I heard KR's "Baroness" was gonna be dressed up as SHE-RA (The Princess of POWER) this year. Definitely a must see!!
–––––
Simply put, Deph is The Man. Based in Los Angeles, this multihyphenate artist-graf writer, illustrator, painter-has created artwork for toys, cars, movies, video games, skateboards, print ads, and more. When he's not painting, Deph concentrates on To Die For, his clothing company. For this year's San Diego Comic-Con, Deph designed the fantastically freaky High Roller FatCap.
The post DEPH Rolls with Kidrobot at SDCC appeared first on Kidrobot Blog.