April 15, 2010
Banksy Film Opens Across the US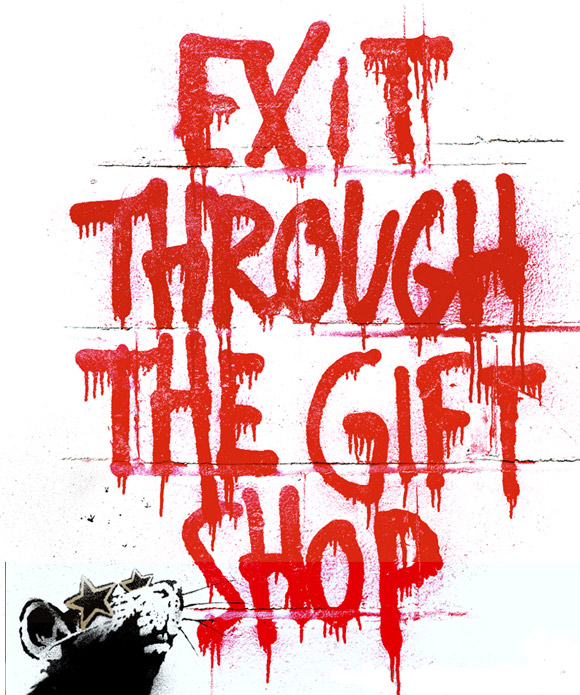 Living graffiti legend, Banksy, is debuting the disaster documentary EXIT THROUGH THE GIFT SHOP tomorrow. LA based French cinematographer, Thierry Guertta, initially intended to cover the street art movement with cousin Space Invader. After meeting Banksy, the film quickly turned into a chronicle of Guertta and the madness that ensued during the making of the movie. It's playing at a select number of theaters throughout the US, so don't bother checking your local listings for this counter culture production.
Here is a rundown of the showtimes.
APRIL 16
NEW YORK : Sunshine Theater
NEW YORK : Lincoln Plaza
LOS ANGELES : Arclight, Hollywood
LOS ANGELES : Landmark
SAN FRANCISCO : Embarcadero
BERKLEY : Shattuck
SAN RAFAEL : Rafael
PALO ALTO : Aquarius
APRIL 23
PHILADELPHIA : Ritz 5
SEATTLE : Harvard Exit
BOSTON : Kendall Square
APRIL 30
CHICAGO : Century
MINNEAPOLIS : Lagoon
WASHINGTON DC : E Street
BALTIMORE : Harbor
ATLANTA : Midtown Art
DENVER : Mayan
SAN DIEGO : Hillcrest
MAY 7
INDIANAPOLIS : Keystone Arts
CANADA – TORONTO : Yonge & Dundas
MAY 21
AUSTIN : Alamo Draft House, Lamar
The post Banksy Film Opens Across the US appeared first on Kidrobot Blog.