October 02, 2013
Baby Tattooville 2013!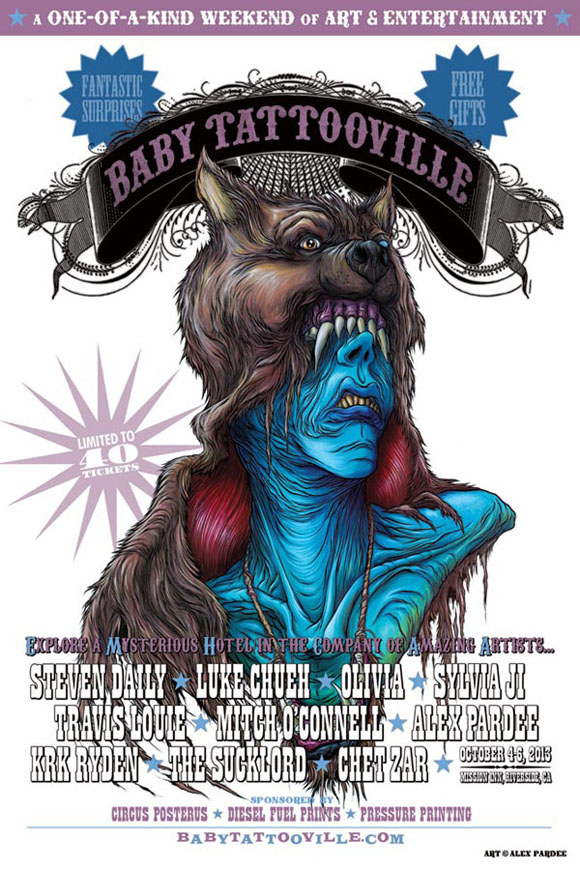 It is that time of year again where the intimate weekend long art extravaganza known as Baby Tattooville goes down in Riverside, California.
Baby Tattooville has become a favorite in the art world with not just the small group of fans that attend but the artists as well. If you didn't know, Baby Tattooville is a weekend-long event celebrating the contemporary art community. Baby Tattooville's intimate and immersive atmosphere provides an opportunity for a small number of paying attendees to spend the weekend participating in both scheduled and spontaneous activities with the event's featured artists, creative partners and surprise guests. In addition to social and creative interaction with fellow participants, Baby Tattooville attendees receive an eclectic assortment of collectible gifts courtesy of the participating artists and sponsors. Attendees are also given an exclusive opportunity to purchase original art and limited edition merchandise created by the event's featured artists.
The big weekend starts this Friday, October 4th and the artists slated for the festivities are Chet Zar, Steven Daily, Luke Chueh, the Sucklord, Olivia, KRK Ryden, Alex Pardee, Sylvia Ji, Travis Louie, and Mitch O'Connell.
Only 14 tickets remain if you want to attend this epic yearly event!
The post Baby Tattooville 2013! appeared first on Kidrobot Blog.