The New Hug Me Groot Available Online Now!
    Its snuggle time with the new Hug Me
Groot
! With the release of the new Hug Me Groot, our good friend Chris Holt aka
The Toy Viking
had something to say :)
With a vocabulary that is limited to three words that never appear in any order that is not an introduction of himself, Groot stole the show in both of the Guardians of the Galaxy films.  Especially Baby Groot because nothing has ever been cuter.  Dude was on a little goats bouncing around a basket of kittens level of cute, which is sacred ground as far as I'm concerned.  Kidrobot knows that a hug from the real Groot would probably lead to splinters in uncomfortable areas, so we have instead made the perfect substitute with this HugMe.  Now what's a HugMe you ask?  It's pretty much exactly how it sounds, because not only is this sixteen inch plush super soft but he vibrates when you hug him!  He actually responds to your love, unlike Rocket Raccoon, who for some reason never responds to my fan mail about coming to my birthday party.  That's three years of parties you've missed little buddy, and I'm starting to think you're avoiding me.  I still love you, you sassy mouthed trash panda.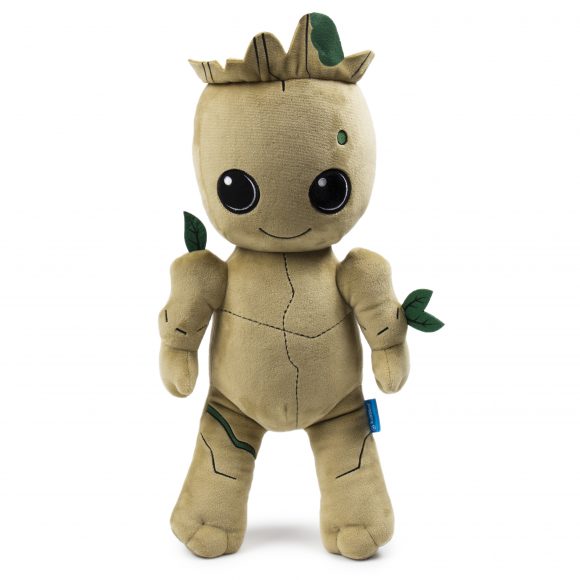 The post The New Hug Me Groot Available Online Now! appeared first on Kidrobot Blog.
---
Also in Kidrobot Blog
We often forget how far and wide the vinyl collectible and art toy world spreads. We are so pleased that the appreciation for art in a different form than canvas has become a collection, a job, a passion and now … Continued The post UK Toy Art Event August 25th 2018 appeared first on Kidrobot Blog.
We like to keep our eyes on what's going on in the Art Vinyl Toy World whenever we can. This month, artist César Zanardi (who we had the pleasure of meeting through mutual friend, Nathan Jurevicius) has partnered with Art … Continued The post Art Across The World: Latin Psychedelia In Tokyo appeared first on Kidrobot Blog.
GOT ANY SPARE BRAINS??? The lastest thing in Mechtorian technology is the 8″ Cognition Enhancer Dunny and it's available online now at www.kidrobot.com. On the mic (or really, written in words) is our fancy friend Chris Holt aka The Toy … Continued The post Kidrobot x Dok A Cognition Enhancer 8″ Dunny Available Now! appeared first on Kidrobot Blog.