September 01, 2017
The 13 GID Dunny Mini Series Release by Brandt Peters!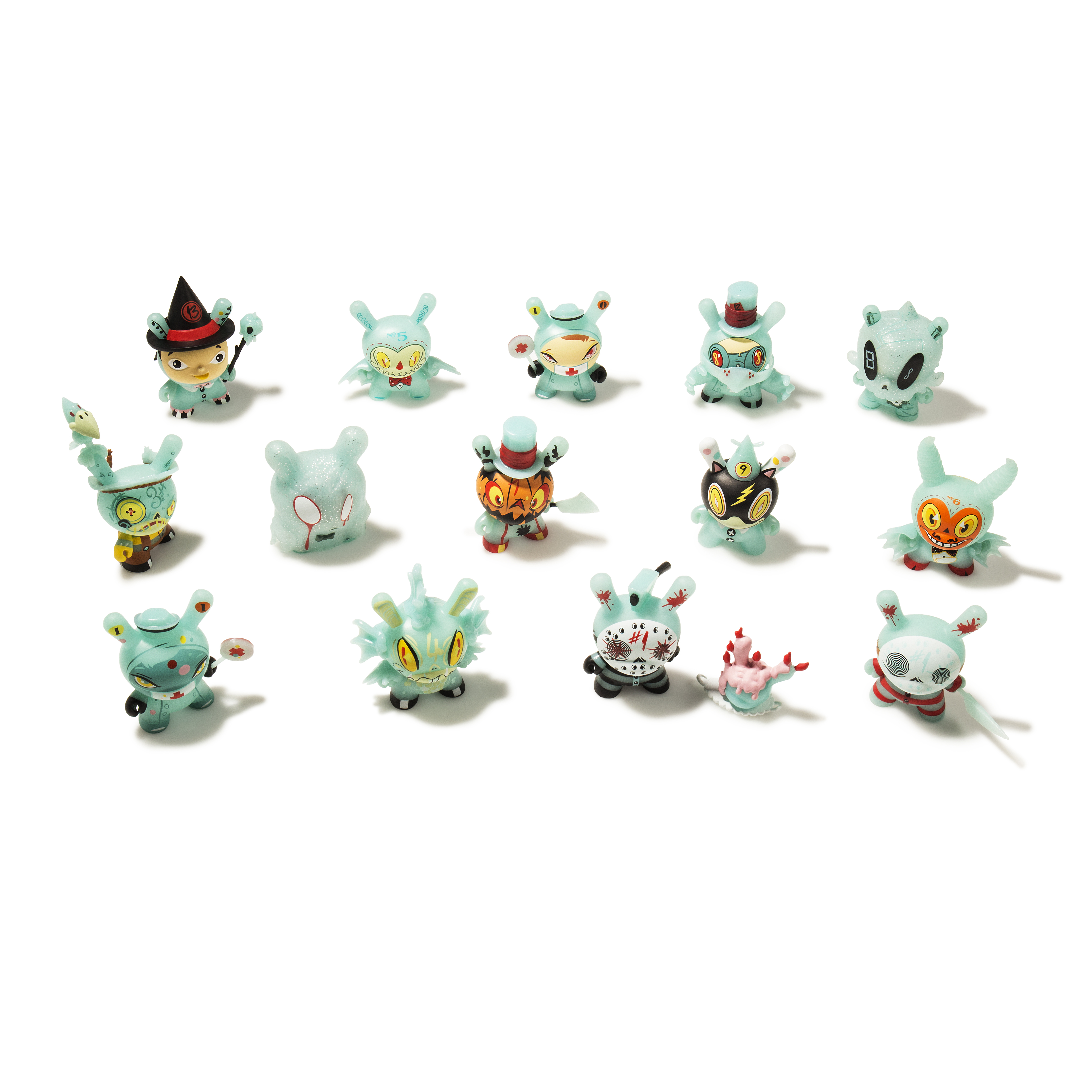 Something wicked this way comes! From the original The 13 Dunny Mini Series that sold out in a scary amount of time, Kidrobot has had the pleasure to rework the series with Brandt Peters to release The 13 GLOW IN THE DARK in extremely limited quantities. This series peels off the layers of the cute and cuddly and shows us a darker side of Dunny in anticipation of Halloween. Releasing online at www.Kidrobot.com and select retail stores, we kick off the scariest part of the year starting September 1st at 10:00am MST. The artist, Brandt Peters is like KR royalty and we always look forward to the next project with him as his creativity is out of this world. For this, we decided to ask him a few questions about the series..here is the inside scoop…
1) What's one of your favorite things about The 13 GID Dunny Mini Series?
I love the idea of an entire mini toy series in glow in the dark – to us that stands out as unique… especially since many toy series may only have a few glow elements at most. It's perfect for the concept and idea of The 13, since they are all multi-dimensional monsters and ghosts. These new extremely limited production versions of these characters now become more like their hyper-phantasmagoric alter personalities.
2) Do you have a favorite character?
I love them all as they are all composites of my favorite horror exploitation films from the late 70s which were the original loose concept for the series. I keep go back and forth with this between Dr. Noxious, Hay-man and the nurses, but I always wind up with Nurse Casket. Something about the color palette, the cute interpretation of infection – plus she is a zombie… Ugghhh so hard to pick! Kathie's favorite is No. 5, Mr. Gloom the luchador bat.
3) Where did you get the inspiration for a horror series such as this?
The 13 series was originally based on my devil demon Dunny design from the 2009 Dunny mini figure series – El Diablo. A while back, Kozik connected with me and wanted to know the back story on El Diablo, and that's when I pitched my original 13 idea. El Diablo was actually only one of an entire cast of monsters, demons and creatures that were summoned one fateful night in an old Victorian house (Infernal Manor) by a mysterious character named Lord Strange. Total classic 70s horror film nod – but I wanted the monsters to be surreal composites of my favorite horror films (from around the world), VS stand alone straight-up classic Hollywood horror monsters. There is more to the whole 13 story, but this gives an idea on how the series began.
4) What's with the number 13?
There is a quite a bit of significance for the number 13; it is often an indicator of chaos and upheaval. It can be interpreted as bad luck, but can also symbolize transformation and renewal. Love the number 13 + you just only saw the first 13 characters – there are more…
5) What was the process of working with KIDROBOT like?
Working with Kidrobot on The 13 has been a lot of fun. . The entire KR team dedicates itself entirely towards capturing your vision as an artist or designer. For me, the only thing that matters is the end product, so however we get there is cool. There is no ego. In the end we can all look at the final project (Kidrobot and I) and say "we did that" together. Kozik and I work very well together and we have known each other for years. Actually Frank was one of my first collectors when no one even knew about me on the East Coast when I first started. So in some ways it was a reunion of minds when he first contacted me… The 13 was my first project under his guidance with KR and it was a great experience. A lot of projects are in the works with KR and I – Can't wait to share them with my fans and the public.
6) What's one of your favorite things about art/vinyl art toy culture?
One of my favorite aspects about the designer vinyl toy scene (import or domestic) is we are not bound by safe and easy. As a creator, I can tap into the true vision I hold for my universe and I don't have to alter it for anyone's ego, or any executive's whim. It's pure unadulterated passion and vision. No one's arms are tied to product skews, data focus, or direction by committee. I have an idea for a character; I design it; I make it; I produce it; and I sell it and distribute it. I can make the edition as large or small as I want. There is an amazing sense of freedom to create in this scene. I also really love the idea that even though we call them toys – this is really the next level of contemporary sculpture and it shows as so many fans and collectors have implemented these toys into their fine art collections.
You can count on seeing all of the following characters: No. 1 The Mad Butcher, No. 2 The Grisly Phantom, No. 3 Hay-man, No. 4 Fish!, No. 5 Mr. gloom, No. 6 El Diablo, No. 7 Jack-O-Lantern, No. 8 The Ancient One, No. 9 Jinx, No. 10 Nurse Cackle, No. 11 Nurse Casket, No. 12 Dr. Noxious and the super rare chase – No. 13 Bellaluna (from Kathie Olivas.)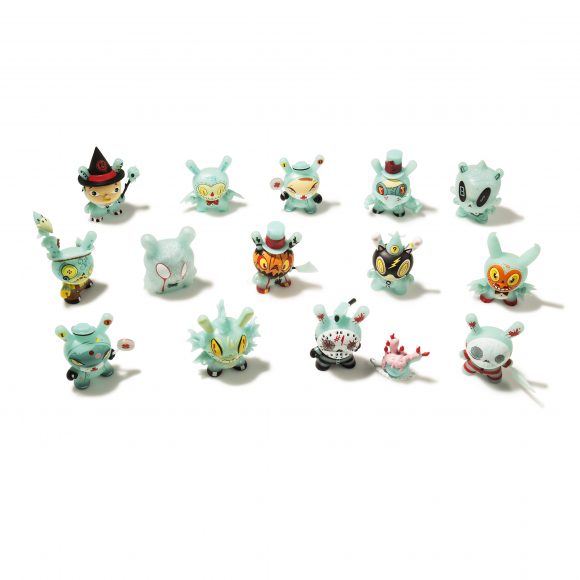 The post The 13 GID Dunny Mini Series Release by Brandt Peters! appeared first on Kidrobot Blog.