Now available The Jack 5-inch SHIFFA Dunny!
   There is a new SHIFFA Sheriff in town, and here to tell you all about it is Chris Holt aka the Toy Viking…..
When you're the baddest hombre this side of the Rio Grande you don't need some menacing name to prove it to everyone.  Kidrobot and Shiffa are proud to present to you this Dunny known as Jack.  Yup, just Jack. And don't let it come out of your mouth sideways either unless you want some new ventilation holes courtesy of those six shooters.  Ol Jack is from a much different time you see,  when men could light a match against their beard stubble and disputes were resolved at high noon in the town square.  They don't write cowboy songs about getting into arguments on a message board now do they? 
    Get to work on cementing your own wild legacy with the help of this five inch Dunny.  He may be small, but his legend stretches beyond his tiny framework, and soon yours will too once he teaches you the ways of the outlaw.  Tell your momma you won't be home in time for dinner.  Unless there's pot roast.  An outlaw always makes time for pot roast.  
Available in both  a grey colorway and an alternative cowboy brown, exclusive to www.kidrobot.com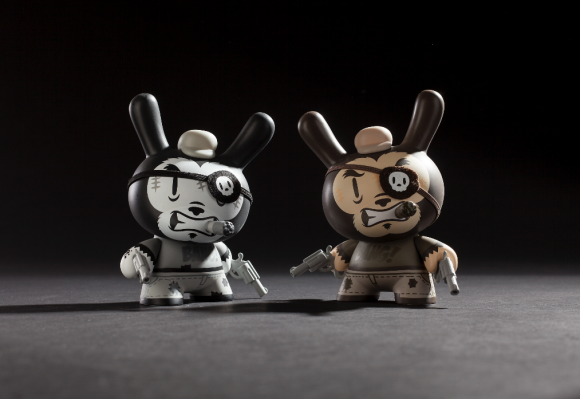 Available now on Kidrobot.com. 
The post Now available The Jack 5-inch SHIFFA Dunny! appeared first on Kidrobot Blog.
---
Also in Kidrobot Blog
Here is another Kidrobot x Throwback Thursday post by our good friend Chris Holt aka The Toy Viking! The best thing about Kidrobot's Adult Swim blind box mini series is not just the fact that you can get vinyl toys … Continued The post Kidrobot's Throwback Thursday: Adult Swim Mini Series appeared first on Kidrobot Blog.
We often forget how far and wide the vinyl collectible and art toy world spreads. We are so pleased that the appreciation for art in a different form than canvas has become a collection, a job, a passion and now … Continued The post UK Toy Art Event August 25th 2018 appeared first on Kidrobot Blog.
We like to keep our eyes on what's going on in the Art Vinyl Toy World whenever we can. This month, artist César Zanardi (who we had the pleasure of meeting through mutual friend, Nathan Jurevicius) has partnered with Art … Continued The post Art Across The World: Latin Psychedelia In Tokyo appeared first on Kidrobot Blog.