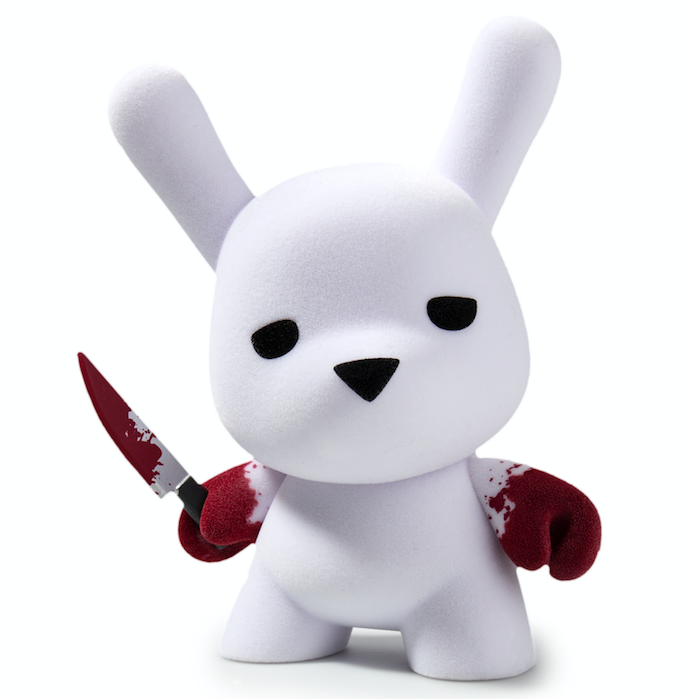 We have kept our eye on Luke Chueh for years watching him grow in his art forms and popularity. Being close with our creative director, Frank Kozik and our friend, Jesse Yu (J*RYU) we have been able to collaborate with this east coast artist and once again happy to be working with him for the brand new 5″ Luke Chueh Dunny available online here. 
Born in Philadelphia, but raised in Fresno CA, Luke Chueh (pronounced CHU) attended California Polytechnic State University San Luis Obipso, where he earned a BS in Art & Design (Graphic Design concentration). In 2003, Luke started pursuing a career as a studio artist, quickly working his way up the ranks of the "Pop Surrealist / Low Brow" art scene, establishing himself as an artist not to be ignored. Employing minimal color schemes, simple animal characters, and a seemingly endless list of ill-fated situations, Chueh stylistically balances cute with brute, walking the fine line between comedy and tragedy.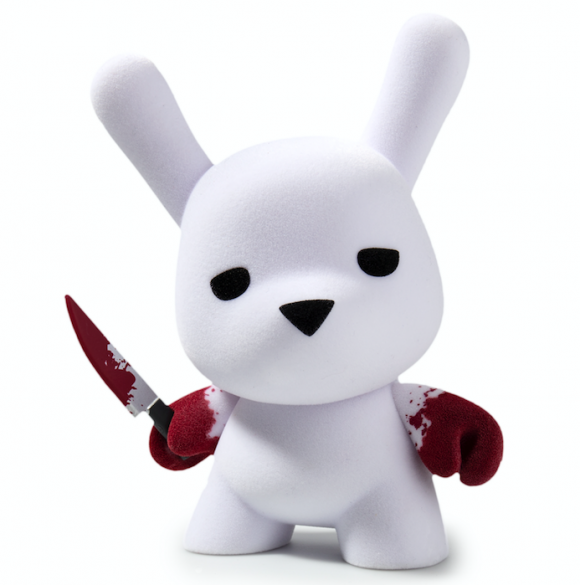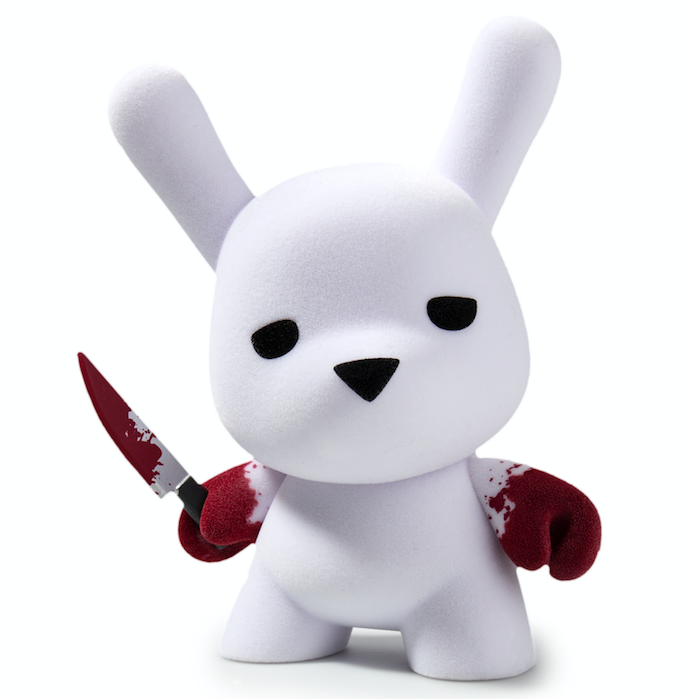 What's your background? Have you always wanted to be an artist?
I started drawing when I was in preschool, but while in school, I pursued a "practical" man's art career as a graphic designer. It wasn't till I moved to Los Angeles did I start flirting with a studio art career.
What does your work aim to say?
My work is a reflection of my feelings and interests.
How have you developed your career?
My career developed slowly and methodically. I started humbly in downtown warehouse art parties, and have spent the past 15 years climbing the ladder that is the art world. I've got a long way to go.
How do you seek out opportunities?
I've been lucky. Most of my opportunities actually sought me out. But I make the most of what comes my way, putting my best foot forward whenever I can.
What's a personal goal of yours?
A successful art career I can take to the grave.
Which current art world trends are you following?
I do my best to keep up with what's going on with my friends and colleagues. When I have time, I go out to museums to immerse myself in contemporary art. Though a lot of contemporary art admittedly over my head, I do what i can to absorb what's going on around me in the hopes I can reincorporate what I learn in my work.
Is there a piece you are most proud of? Why?
I'm not sure. I have new painting I created called "Suicide King" that I really like. It's big and one of my more unique paintings. "Soundtrack (To My Life)" is great because of how successful it's been for me.
What is the concept for our Dunny Design?
The concept for the Wannabe Dunny is, what if kidrobot asked me to create a platform toy? What would it look like? It probably wouldn't be to far removed from the Dunny. Actually, it might just be a Wannabe Dunny.
How did you start making the Bear? Why did you chose him?
The bear came about with my experiments in developing a character to create my paintings around. He essentially is metaphor for myself, and it was inspired from nick names and pet names I got from friends and previous girl friends.
Your Art often has a sad feeling to it. Is there a reason to this? Is this based on personal experience?
I've got a lot of issues, and the state of the world doesn't help. I think the reason I've found any success is because of the sincerity behind my paintings.
What's something that we (and your fans) don't know about you?
Despite my reserved demure, I love the ladies.
The post Luke Chueh appeared first on Kidrobot Blog.