Kidrobot x Dok A Cognition Enhancer 8″ Dunny Available Now!
GOT ANY SPARE BRAINS??? The lastest thing in Mechtorian technology is the 8″ Cognition Enhancer Dunny and it's available online now at www.kidrobot.com. On the mic (or really, written in words) is our fancy friend Chris Holt aka The Toy Viking….
In the spirit of Kidrobot and Doktor A's brand new eight inch Dunny, Travithick's Cognition Enhancement Engine, I'm going to tell you the weird tale of one of the most famous brains in the entire world (sips glass of wine).
Albert Einstein's brain went from developing the theory of relativity to hanging out in a jar under a beer cooler.  Kind of an odd thing to happen, huh? While conducting his autopsy, the physician decided it was way to valuable to be cremated with the rest of his body, so he went a little rogue and kinda sorta stole it.  Einstein's family was a bit heated about the grand theft of his cerebral tissue, but in the end relented to allow it to be studied scientifically to see whether any physical differences could account for his super genius.  It was cut into a thousand thin slices and sent all over the world to be poked, prodded, and even gawked at by the curious masses.  I've seen some of the slides in person and can assure you that being in the close proximity of brilliance did not dissuade me from going home and watching reality tv dating shows.
Doktor A's instantly recognizable mecha Victorian aesthetic is ramped up on this figure.  With visible brain and a mustache that wont quit, this miracle of science and vinyl will instantly transform your living space into a scene straight from the mind of Mary Shelley.  Did you know she kept her dead husband's heart in her desk drawer?  What is it with smart people hijacking organs?  Collecting toys is so much easier/way less germy.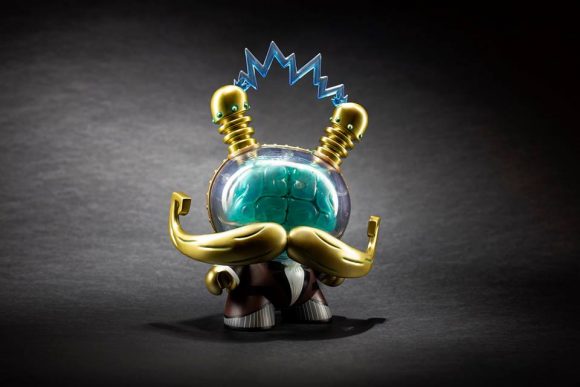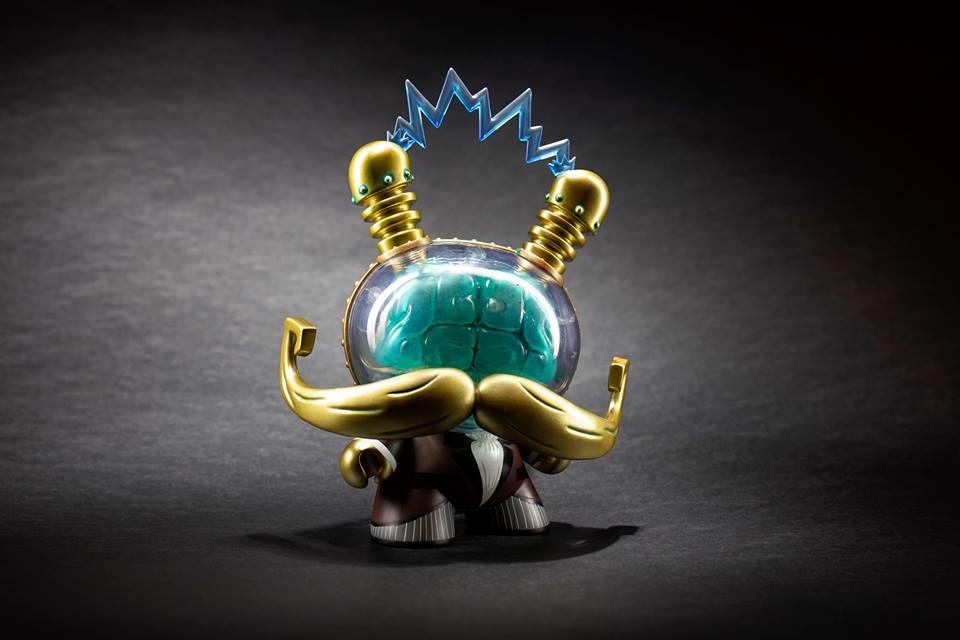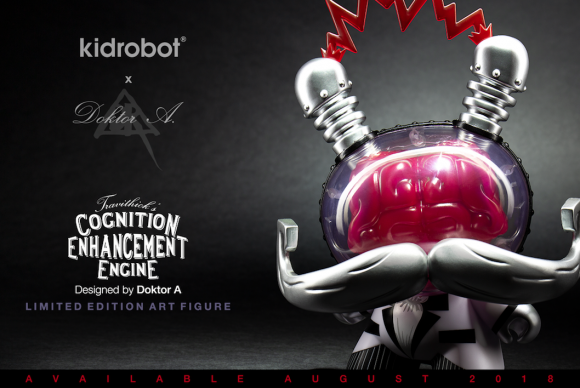 Available in both the standard blue "Sundays Best" and the ultra limited Kidrobot exclusive "Ritzy" red, this Dunny is available right now at www.kidrobot.com.
The post Kidrobot x Dok A Cognition Enhancer 8″ Dunny Available Now! appeared first on Kidrobot Blog.
---
Also in Kidrobot Blog
Packed with a punch or rainbows and glitter, the 5″ Labbicorn by Frank Kozik is officially online and ready to add extra sparkle to your Labbit collection. Here to say a little something else about this mystic wonder is our … Continued The post Kidrobot x Frank Kozik 5″ Labbicorn Available Online Now! appeared first on Kidrobot Blog.
Kidrobot is proud to announce the first of many mysterious releases from the world of Arcane Divination. Today, we release the 5-inch Azazel Dunny by artist, Jon Paul Kaiser. To talk a little bit more about this release is our … Continued The post Kidrobot x Arcane Divination 5″ Azazel Dunny By JPK Available Online Now! appeared first on Kidrobot Blog.
The precursor to the highly anticipated Arcane Divination Vinyl Dunny Mini Series, the 5″ Demon Dunny by JPK stands as the fallen angel or Demon piece to the word of tarot. The piece itself is textured, detailed and so beautiful … Continued The post Arcane Divination's Demon Dunny Artist: JPK appeared first on Kidrobot Blog.