February 12, 2019
Kidrobot x Clutter Kaiju Dunny Battle Mini Series: James Groman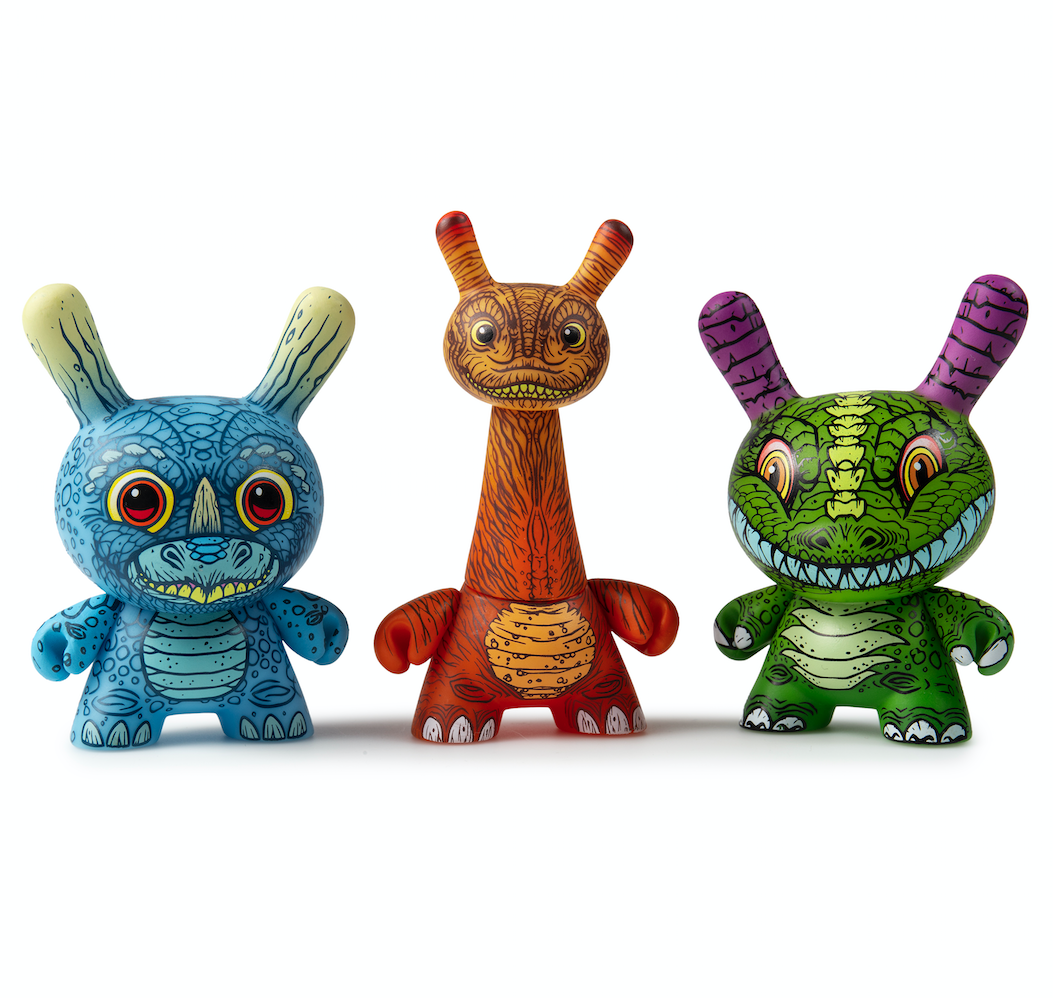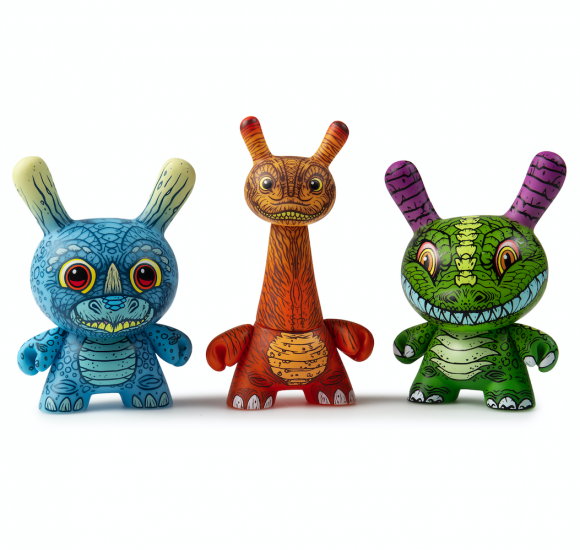 One of the original creators of some of the 1980's Madballs characters, Kidrobot's relationship with James Groman began when our creative director, Frank Kozik expressed an interest to work with the illustrator. Since then we have have the pleasure of working with James on many different Madballs and other horrific ideas. Now, as an illustrator of the unusual and Kaiju monsters we is part of the new Kidrobot x Clutter Kaiju Dunny Battle Mini Series. Here is a little more on his three characters….
I call these guys Dunnysaurs.
Dunnysaurus Rex, Dunnyceratops and Dunnysaurus.
What it means to you?
I saw a unique challenge here to somehow design Dunnys that were prehistoric in nature, perhaps the very first Dunnys ever! When Dunnysaurs Ruled the Earth.
Why did you choose that specific design?
I am, of course, a dinosaur nut. Thought that designing Dunnysaurs would be a great first step to insure fans of the Dunny platform would recognize these as being designed by James Groman.
What inspired the design? 
Being familiar with the basic shape of the Dunny, I figured that my designs would need to be a bit more appealing, even cuter than what I usually design.
Why did they choose those colors and design choices?
For each design I purposely worked with a pretty limited palette and simple complimentary colors. I knew I wanted to have a very scaley art 'texture' on them, so did not want things to get to complex. The biggest obstacle was the ears, which really only seemed to work for the Dunnyceratops design. But then I came to the conclusion that these Dunnys were early prehistoric versions of the Dunny platform, and were on their way to evolving fully into the Dunny/rabbit form. As if life began on the Dunny world in a similar way to our own, but they had eventually evolved into rabbits rather than man…!
Are there any "easter eggs" or features of the design with a story or something on the piece that people might not notice at first? 
Not really….but I guess the closest thing to a hidden detail or easter egg might be they all have tails. Not as a sculpted detail, but as part of the deco application.
What is this character's personality like?
Did not delve too deeply into their individual personalities other than I really wanted them all to be very appealing and friendly looking. I guess more with the Dunnysaurus and Dunnyceratops. The Dunnysaurus Rex does seem to be a bit more mischievous and sinister. Is that a smile….or a snarl?
What are three words to describe this Dunny?
Pre. Hiss. Storic.
Where in the world (or other worlds) would this Dunny live?
An early un-evolved prehistoric world, where every living creature is in its early, more primitive form…only everything has Dunny ears…!
Why do you think this Dunny is special from other Dunnys?
I do not believe that prehistoric versions of Dunnys have been done too much in the past…but could be wrong. But its my very first production Dunny. Matter of fact, these are my first Dunnys period.
Do you have any sketches, development art that you would let us share with fans?
To be honest, there is not a lot of development art on these….I took the basic Dunny templates into photoshop and just dove right in. Matter of fact, when I designed these, I was going through an odd, very uncomfortable series of dizzy spells. These spells had caused me to not only cancel my trip to California, and Designer Con at this time, but even walk away from art for a while in general. I could not even walk across a room, let alone sit at a drawing board or computer. Art is my life, so this was an incredibly difficult time. These Dunny designs were literally the first project I was able to actually sit up and work on after my bout with vertigo. I honestly wish I could have pushed the designs even more than I did, but the fact I was able to get them done at all helped me get back into the artistic drivers seat again. So I look back at these designs with memories that are a bit bittersweet. The vertigo was caused by inner ear problems that resulted from TMJ, or problems with my jaw. But it took a while for us to figure this out….I was told by a couple doctors that I had a stroke. So, I was not in a great frame of mind.
What are you currently doing in the art world?
I am a toy designer to my core….and am currently working on a number of projects for large, mainstream Toy companies as well as some of my own creations for boutique, Designer Vinyl Toy companies. I have wonderful overseas partners like Hiroto Ohkubo at Instinctoys, with whom I've created large vinyl toys like: King Korpse and Kaiju Killer. We have another amazing large vinyl figure due out by years end, as well as a myriad projects in the years to come. I just finished a large figure concept and design for Playtoy Hong Kong, sculpted a large movie monster figure called the Deadly Spawn for Justin Ishmael, and have been working on a wonderful vinyl figure with Martian Toys. I have a couple other large figure projects in the works as well, so things are looking good for my career in 2019.
Did you always want to be an artist? How did you get to where you are today as an artist?
Well, there was a time when I wanted to be a paleontologist…being so in love with prehistoric creatures. But very soon I realized that art was indeed my passion, and the only thing that I was actually good at. I know that everyone says that I shouldn't say this, but it defines me. Art is my identity. It is such a part of my DNA, I could not exist without it. There I said it.
I've built my career around constantly striving to get better and better at my craft. Identifying what I was good at, not trying to be something I was not. Also, believing in myself to the point that no one was going to stop me from doing it. I went after projects that I wanted to do. To work with companies that I wanted to work for. And being the commercial artist that I am, I did jobs on time, on budget and to the best of my abilities. Eventually, your reputation is what you live by. Quality work gets peoples attention, and working hard and being dependable makes people come back to you so you can do it again.
What projects have you worked on with Kidrobot in the past (with years)?
I first met Frank Kozik in 2016, right after he had been brought in as Creative Director at Kidrobot. He asked about my history with Madballs, and was wondering how Kidrobot might get involved with the licensing of the brand. I had just ended a full time job at American Greetings Properties, who owned the brand at the time, and still had a lot of friends there. I put Frank in touch with the licensing folks at AG, and he requested that I do all the artwork for the products that Kidrobot wanted to produce. My friends at AG were great, and gladly approved of my working on the Kidrobot line, since I had such a long history with the brand.
Since then I've worked on every bit of Kidrobot Madball product to date. Working with the graphics and packaging folks at Kidrobot, I designed and executed all the packaging and point of purchase materials for the first wave of Madball product they released. Since then I've been designing all of the new Kidrobot retro Madball designs,( many based on drawings done by American Greetings artists in the 1980's) as well as the way-cool Horror Madballs they produced in 2018. As of now, there is a ton of product that has yet to be released from Kidrobot, and all of it has come through the Groman studio.
What are three things that fans don't know about you or your art?
Ive been around for a LONG time, doing what I do….not sure if there is a lot they do not know. But perhaps they may not know:
I'm 58 years old, and a grandfather. Been working on toys since the 1980's.
I don't just do monsters. I was art director on Care Bears for about 3 years, and have done designs for My Little Pony, Strawberry Shortcake, Mr. Potato Head, among many other cute toys.
I work almost entirely on the computer these days. And once Ive mastered the 3d sculpting program Z-Brush, will probably be working primarily in that program to create sculpts as well.
What's interesting to you about "kaiju" or monsters and creatures?
I love dinosaurs, but dinosaurs really existed. You cant just make up your own dinosaur, if you do its not really a dinosaur. It's a Kaiju. Kaiju are "large, strange beasts', and are primarily monsters we as human beings have fabricated ourselves. Those we've created in our myths and legends, novels and storybooks, or movies and comics. They can be almost anything….insects, reptiles, mammals, birds, sea creatures, aliens, giant statues, …Its pretty open. I just love to create my own life forms, and the ones I tend to create are best categorized as Kaiju. 
Do you believe monsters exist?
Truly, I believe a true monster does not exist. Monsters are things we as humans create for ourselves. If something actually exists, and is alive in the world we know, it falls into the category of the things I've mentioned before.
Except in government office. Monsters do exist there.
The post Kidrobot x Clutter Kaiju Dunny Battle Mini Series: James Groman appeared first on Kidrobot Blog.