Kidrobot x Care Bear Keychains Release!
Care Bear keychains are here! Cute, small and new, we are stoked about this collaboration with American Greeting to release the new vinyl Keychain Series with love and sunshine! Chris Holt is here to talk about the Care Bear Keychains release on Kidrobot.com!
I would feel totally guilty if I lost my keys and one of these Care Bear key chains from Kidrobot was attached.  They're so dang cute and I would worry that they were out in this great big world, with only the keys to my midsize sedan to keep them company.  This is why I can't watch those cartoons about cute little animals that get separated from their parents and have to find their way home.  Those movies kill me every time no matter that I know the outcome is always good.   I'm way too sad now and only a serious lunch will alleviate this depression.  Turkey sandwich take me away!
These adorable little bears will ensure you never lose your keys again so you don't go through the above mentioned sadness.  And every time you go to start your car or unlock that secret storage container, one of these will stare back at you and instantly brighten your day.  You can't be upset when a group of multi colored bears with pictures on their tummies are nearby.  Now if you were in the woods and a bear stands up without a picture on his tummy, your day might actually get a little worse.  Unless you distract him with your key ring full of these guys and retreat to safety, that is!!!  Care Bears are always coming through for you.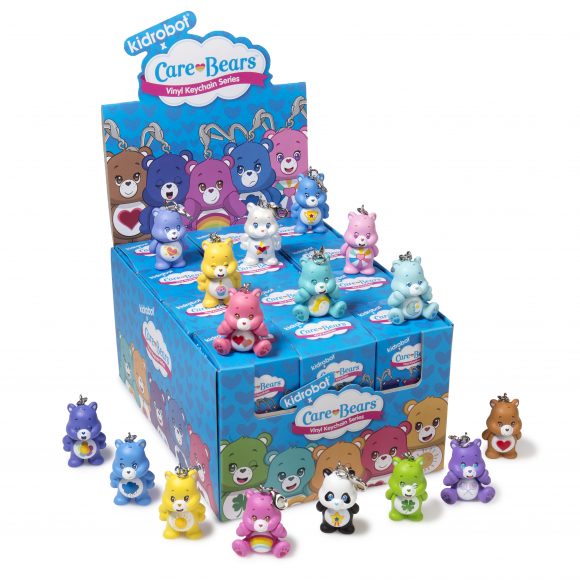 Sold blind boxed style, the bear you get may be a mystery, but the joy it will bring you is no surprise.  Pick up a few now at www.kidrobot.com.
The post Kidrobot x Care Bear Keychains Release! appeared first on Kidrobot Blog.
---
Also in Kidrobot Blog
An interesting collectible artist from the sunny sate of California, Ragnar (aka Brandon Ragnar Johnson) was asked to join in the on the fun with the DCON Dunny Art Mini Series and his three toned piece. Want to know a … Continued
The post Kidrobot x DCON Mini Series: Ragnar appeared first on Kidrobot Blog.
Kidrobot is happy to announce another well known artist making his way to the DCON Dunny Mini Series. Working with him since 2004, Deph is here to make a screen in the series.  What are you currently doing in the … Continued
The post Kidrobot x DCON Mini Series: Deph appeared first on Kidrobot Blog.