October 21, 2022
Kidrobot x Andy Warhol Brillo Box Yellow 20-inch Dunny drops in 1 HOUR – 20 pieces worldwide

Kidrobot's new 20" Andy Warhol "Brillo Box Yellow" Dunny drops today at 12 pm ET only at Kidrobot.com!
In collaboration with The Andy Warhol Foundation, Kidrobot will create only TWENTY individually crafted 20-inch Dunny sculptures based on one of the artist's most famous images – the Brillo Box. The art is based on Warhol's 1964 Brillo series which featured the popular cleaning product.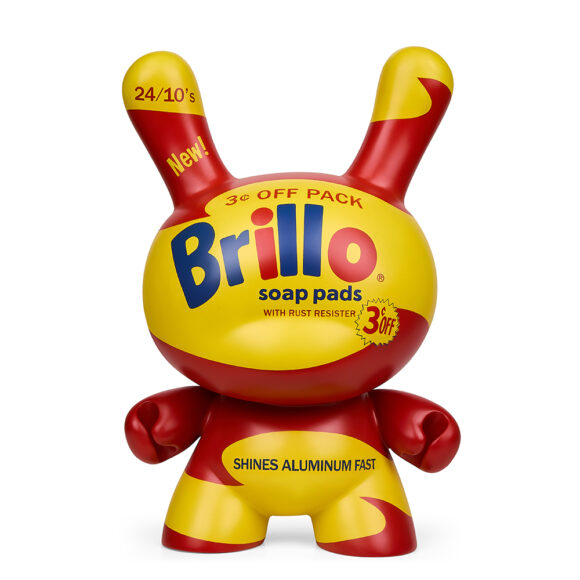 The Brillo Boxes were part of a larger 1964 exhibition featuring nearly identical wood reproductions of common cardboard supermarket consumer product boxes including Del Monte peaches, Mott's apple juice, Heinz ketchup, Kellogg's corn flakes, and Brillo soap pads.  The boxes were silk-screened and painted by Warhol and then stacked in piles and sold by the stack.  While the exhibition was not originally well received by critics and did not sell, the Brillo Box works challenged the idea of how we identify and value something as art. Warhol transformed a mundane commercial soap pads box into a work of art.
Each sculpture is made of premium fiberglass with no articulation and is hand-painted in North America using high-quality paint for enhanced clarity and long-lasting quality. Packaged in a premium Kidrobot x Andy Warhol wooden crate with a Certificate of Authenticity.
The Andy Warhol "Brillo Box" 20-inch Dunny is limited to 20 pieces worldwide. Kidrobot.com exclusive.
To view the currently available Warhol line, please visit the Kidrobot x Andy Warhol collection.
The post Kidrobot x Andy Warhol Brillo Box Yellow 20-inch Dunny drops in 1 HOUR – 20 pieces worldwide appeared first on Kidrobot Blog.