Getting to Know the Kidrobot Crew: Michael!
Did you see this fella break out some of his Andy Warhol knowledge on the Kidrobot unboxing video for the new Warhol Dunny Mini Series 2 that released today? Crazy. We had him answer a few more questions about himself, take a look!
Name: Michael Ly
Job Description: Design Manager
How long have you worked for KR?: almost 5 years
One thing on your bucket list: My parents were Vietnamese refugees who fled to the US for a better life and opportunity. They've built a new life from the ground up, and are living the "American Dream".  My duty as a son is to hurdle the bar they have set.  No excuses, give everything you got!
One of your favorite KR products or the first one you owned? 2008 Kozik 3" Mecha Dunny (Dunny Series 5)
Roses are red, violets are blue……..roses suck
What about Kidrobot or art culture is your favorite? Being the little guy who brings out the abnormality in the things we create
We have yet to discover something this guy isn't good at. The jack of all trades…like some designer super hero he reigns supreme at all things design and art so it makes sense that he has his title. The best thing since sliced bread… Michael Ly is a one of a kind guy who happens to be the head honco of the Design team. That means he is the manager who keeps all the other designers feeling creatively supported and works himself to the bone to make all the things we love about Kidrobot stay in Kidrobot. To put it into some weird out of place metaphor, Michael Ly is the Utahraptor of the KR Jurassic Park game he is often unseen but a serious thing to deal with. With Michael, you might find yourself surprised but ALWAYS end up blown away.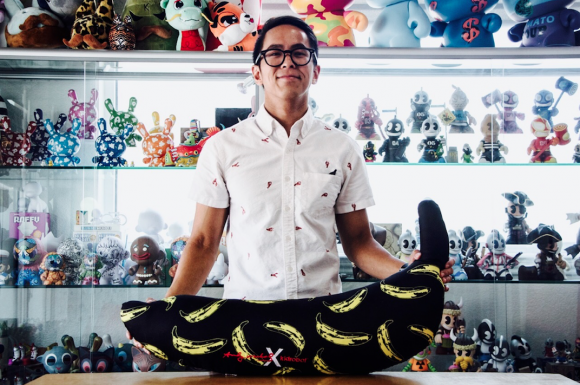 Please note this photo is the real deal.. 100% Micahel 100% PotassiYUM
Please be sure to comment and ask any questions you might have for the Design Manager, the one, the only, Michael. (Like what is on his shirt..I'd like to know)
The post Getting to Know the Kidrobot Crew: Michael! appeared first on Kidrobot Blog.
---
Also in Kidrobot Blog
Here is another Kidrobot x Throwback Thursday post by our good friend Chris Holt aka The Toy Viking! The best thing about Kidrobot's Adult Swim blind box mini series is not just the fact that you can get vinyl toys … Continued The post Kidrobot's Throwback Thursday: Adult Swim Mini Series appeared first on Kidrobot Blog.
We often forget how far and wide the vinyl collectible and art toy world spreads. We are so pleased that the appreciation for art in a different form than canvas has become a collection, a job, a passion and now … Continued The post UK Toy Art Event August 25th 2018 appeared first on Kidrobot Blog.
We like to keep our eyes on what's going on in the Art Vinyl Toy World whenever we can. This month, artist César Zanardi (who we had the pleasure of meeting through mutual friend, Nathan Jurevicius) has partnered with Art … Continued The post Art Across The World: Latin Psychedelia In Tokyo appeared first on Kidrobot Blog.