August 22, 2019
Basquiat's "Wine of Babylon" – From Collage to Divorce Battle to Masterpiece Dunny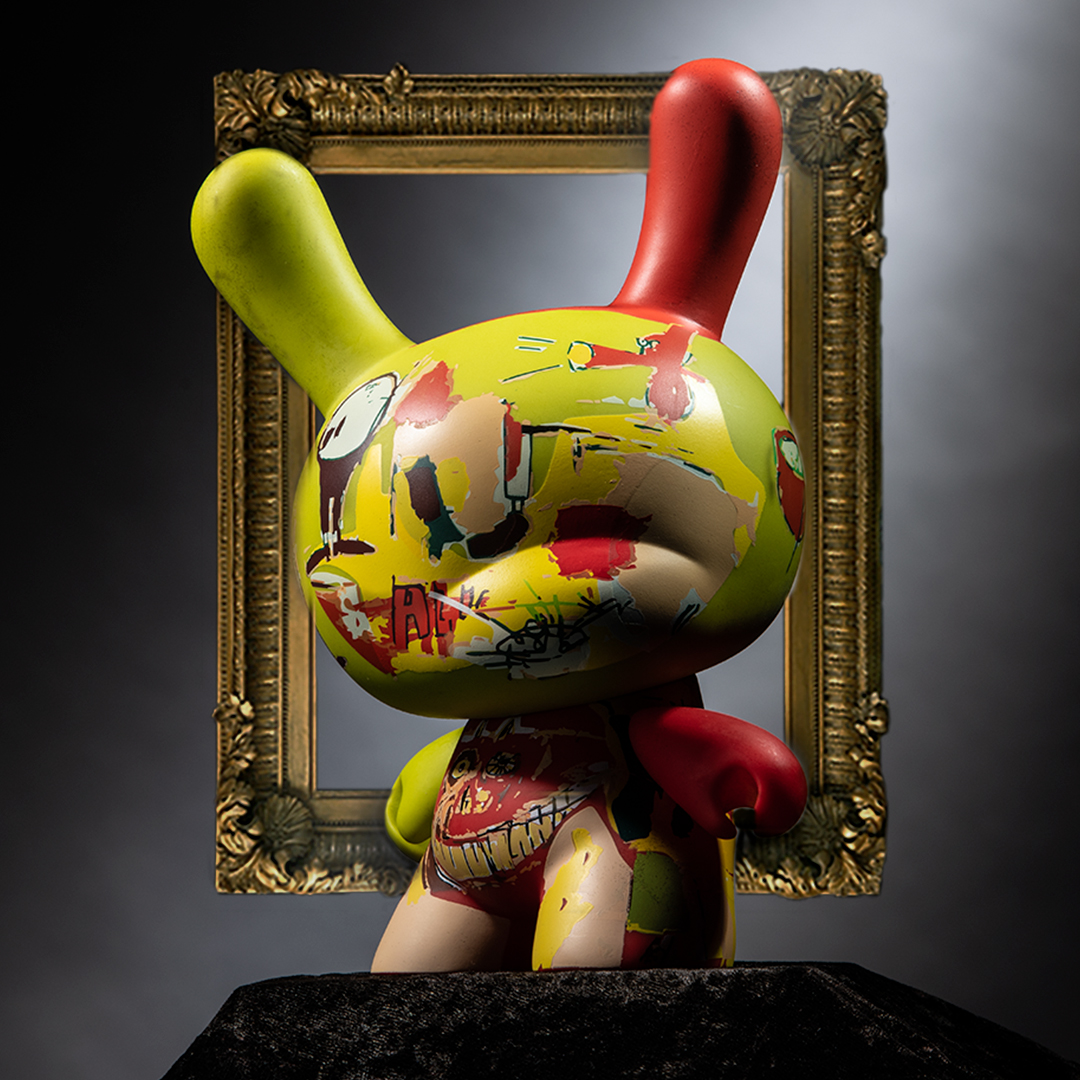 "The young artist uses color well… but more remarkable is the educated quality of his line and the stateliness of his compositions, both of which bespeak a formal training that, in fact, he never had." – Vivien Raynor, in a review of Jean-Michel Basquiat's solo exhibition at the Mary Boone Gallery in New York.
By the time Mary Boone, the "Queen of the Art Scene" had given Basquiat this solo exhibition, he was already a force to be reckoned with in the art world. He'd already had several solo exhibitions, had already been collaborating with Andy Warhol, and was already selling paintings through and represented by famous art dealer Larry Gagosian.
But Basquiat's 1984 exhibition was notable for a variety of reasons, one of which is that this show is where the painting "Wine of Babylon" made its debut. Famously evolving from a collage piece he'd created a year earlier, Basquiat included in this painting several prominent "Alice in Wonderland" characters such as the Caterpillar, Tweedledum and Tweedledee, and the Mad Hatter, prompting a large discussion around the painting's intent and meaning. Cartoonish in nature, one of the more notable aspects of the work is the Mad Hatter seemingly depicted by a black man, which caused many to ruminate on what social message had been woven into the piece. Many believed it was a statement on white dominance in American pop culture.
Fast forward to 1998, ten years after Basquiat's death at age 27, and "Wine of Babylon" was purchased for $330,000 from the Tony Shafrazi Gallery in New York by Academy-Award winning Italian film producer Vittorio Cecchi Gori. In just a short time, the painting would become the centerpiece of a bitter separation and divorce between Gori and Croatian actress and singer Rita Rusic.  In 2015, Gori's film production company, G & G Productions, would sue Rusic, seeking the safe return of the painting, which was estimated to have appreciated in value to over one million dollars.
Despite (or perhaps, in part, due to) its tumultuous life, "Wine of Babylon" remains one of Jean-Michel Basquiat's more well-known pieces. So when Kidrobot started putting Basquiat works on Dunnys in 2018, this painting was an obvious choice to be used in our Masterpiece Dunny series in which we take the seminal works of groundbreaking artists and transfer them onto a collectible art figure that's perfect (and affordable) for any art lover.
---
Kidrobot x Jean-Michel Basquiat 8-Inch Masterpiece Dunny – Wine of Babylon is dropping
tomorrow, August 23rd, at 10am MT. Set your alarms and own a piece of art history. 
The post Basquiat's "Wine of Babylon" – From Collage to Divorce Battle to Masterpiece Dunny appeared first on Kidrobot Blog.