August 29, 2019
Artist Spotlight: Fakir on his first Dunny, "Tako's Revenge"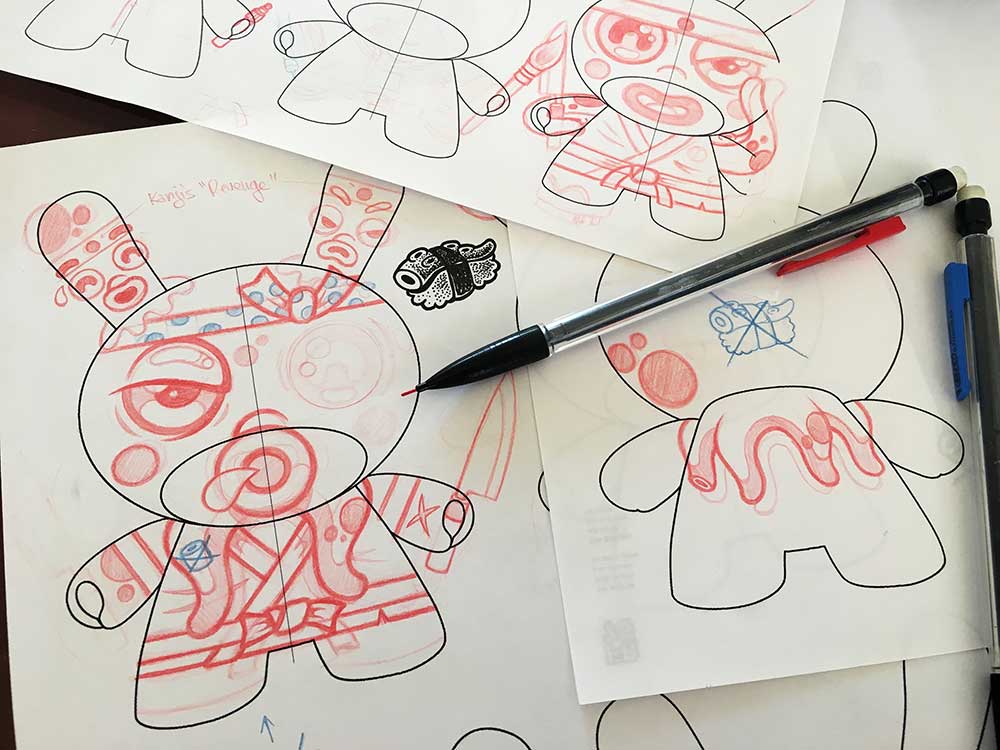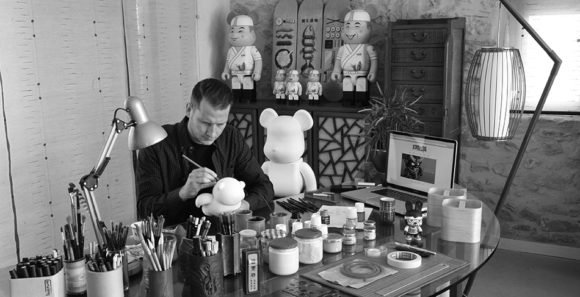 With clients as diverse as shoe companies, computer manufacturers, and sushi restaurants, it's impossible to guess what French artist Fakir is going to do next. Enter "Tako's Revenge," the new 5" Dunny Art Figure – a creation that was inspired by a trip to Japan where an old, sea-stinking fisherman pointed him towards a mysterious sushi restaurant where you were served as soon as the last customer was finished eating and mysteriously disappeared into the kitchen. We'll leave the rest up to your imagination but here's something to keep in mind – "Tako" means "Octopus" in Japanese.
Recently, we reached out to Fakir for a little Q & A to get to know him and his work a better:
KR: What is your first memory of creating art?
F: I practiced graffiti with my group of friends for a few years and it was around 2007 that we had the opportunity to exhibit our first paintings and other custom objects.

KR: When did you realize that art was your calling?
F: I studied art for 5 years during which I was taught a lot to think about projects that were often too far-fetched for my taste, the main work being done on analysis and reflection. To be honest, it did not fit me at all, and I did not enjoy it at all during those years. 
I envied my colleagues who were in other art schools where they really learned to draw, paint, type … they learned the techniques, practicing in the concrete and that's what I needed!

At the end of my studies of object design I created the LAPIN QBIQ, a cubic toy shaped rabbit for customization.
The year after, I started to develop this project, to customize my first toys, to paint, and a guy who had set up a large salon dedicated to customization invited me to participate to present my toy and some personal creations.
I think it was from there that I thought something was possible.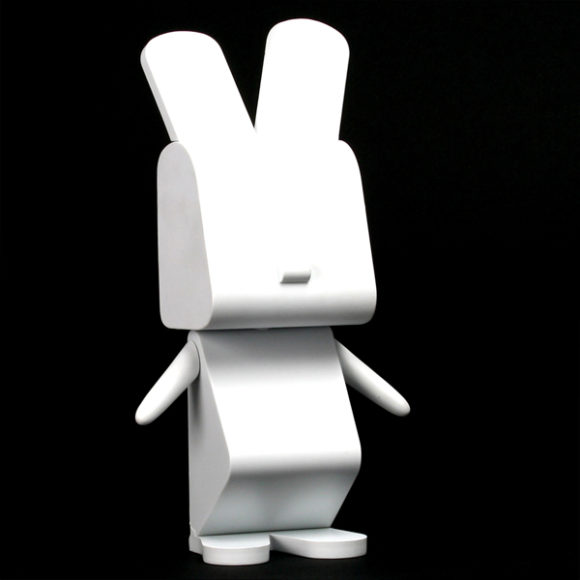 KR: What are your biggest influences as an artist?
F: It's cartoons, anime and video games from the 80s-90s with which I grew up, and Japan that fascinates me.

KR: Under what circumstances do you create art? In a quiet space? Loud music playing? In the morning or evening?

F: I work at home in a country house, so in a really quiet space! I start working in the morning with a cultural television channel in the background that broadcasts animal and scientific reports, which are mostly concluded by a sad report on the state of the planet … so in the afternoon I listen to music to think of something else.

KR: Can you share your concept art for the Tako's Revenge pieces?
KR: Why did you choose red and green as the initial colorways for these pieces?
F: I always work more or less with the same range of colors, tonic and pastel in the same time.
I chose this "red" which is not one, which is precisely not too red or too pink, because it is the color with which the octopus is usually associated.
For the variant I tried a lot of other colors and I chose the turquoise, just mix between the blue and the green, that I like a lot and that also seemed to me to match this Tako.
KR: What was your first introduction to Kidrobot?
F: Around 2007 I discovered and bought my first artoy which was a Dunny 3", to be exact it was "Mr. Bunny" by Joe Ledbetter, and I immediately wanted to have a design printed on these figures.
KR: What inspires you as an artist?

F: A big part of my work is inspired by Japanese culture which fascinates me, and my favorite themes are Asian food and bestiary. The animal's condition preoccupies me enormously, and I often like to transcribe it in my creations where the animals take their revenge on humans, like this Tako.

KR: How do you describe your artistic style?

F: I avoid doing it – that gives me a headache …
KR: What's next in your career?

F: I am currently working on a brand of t-shirts. Related to … Japan.

Speaking of t-shirts, be sure to check out the "Tako's Revenge" Limited Edition tee that Fakir designed and is exclusive to Kidrobot.com, dropping August 30th at 10am MT, on THIS PAGE.
FIGURE BIO:
"As a sushi addict I swore I would not trust these Sushiadvisors. 'Best Chopsticks' and all that corrupt crap! On my last trip to Japan, I decided to ask for sushi advice from an old fisherman who, for the record, smelled so strongly of fish that one might have wondered if he himself was from the depths of the sea. He recommended a restaurant in a neighborhood where I would not have usually gone by myself, warning me that this sushi restaurant was something atypical. But this time, I had a taste for adventure! He did not lie to me, indeed the atmosphere was very strange but not as much as the principle! Unlike a traditional chef who prepares his sushi in front of you, this place was different. It was only extremely odd that you were served as soon as that the last customer, having finished his meal, would have gone to the kitchen to meet the chef, under a barely lighted lantern which will be extinguished as soon as we will be served …"

Served at 5 inches tall, the Tako's Revenge Dunny by French artist, Fakir is planning his revenge in this Kidrobot.com exclusive green edition, the limited edition red edition and serving up a limited edition Tako's Revenge Graphic Tee designed by Fakir.

ARTIST BIO:
French artist, Fakir is a painter passionate about the richness of Japanese culture and folklore, professional sushi eater and maniac about finishes! Born in Paris in the 80's, he grew up with the cartoons and video games from 80-90s and spent his teenage years surrounded by hip-hop culture, practicing graffiti and listening rap music. Later he discovered japanese animes, and became a big fan of Studio Ghibli especially Miyasaki, and some specific mangas like Amer Beton, Akira, Afro Samurai, Samurai Champloo, which have developed his artistic style into what it is today.

Fakir founded his freelance studio, FAKIR DESIGN, in Paris, France in 2008 and has built a reputation as a toy designer but also works as a painter, illustrator and character designer. He juggles between traditional and digital techniques, adapting his technique with the project and medium, with a great obsession for finishes!
A big part of his work is inspired by Japanese culture and folklore which fascinates him and he likes to reinterpret famous icons and characters of his childhood with his artistic style.

2x Dunny colorways
SRP: $29.99
Red (wholesale): limited to 500 pieces worldwide
Green (Kidrobot.com): limited to 300 pieces exclusively on Kidrobot.com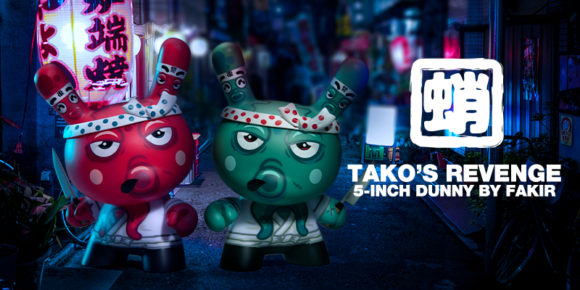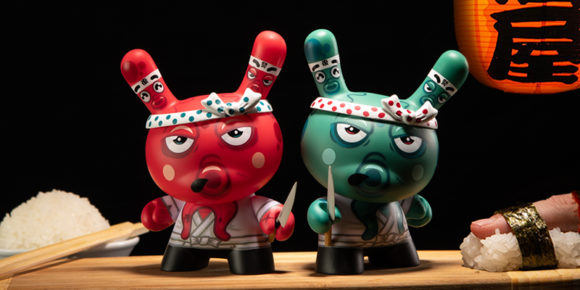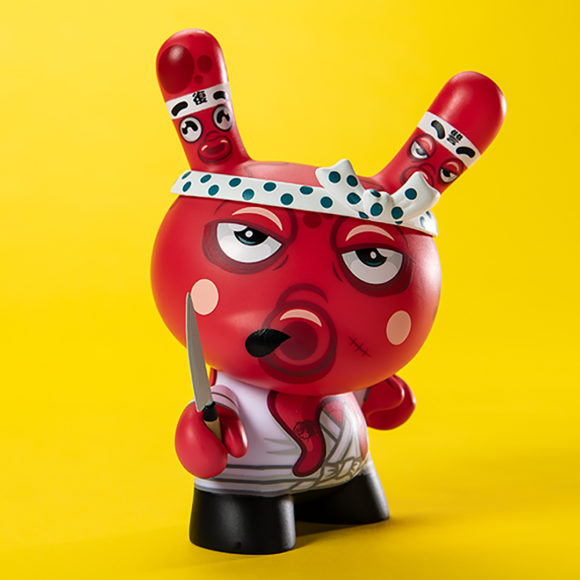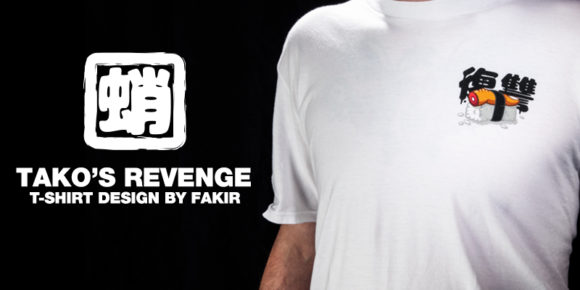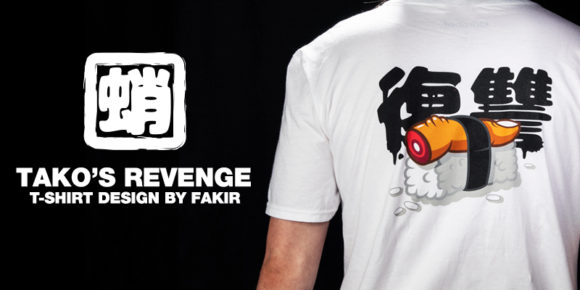 The post Artist Spotlight: Fakir on his first Dunny, "Tako's Revenge" appeared first on Kidrobot Blog.