Arcane Divination Pins Available on Kidrobot.com
   The thing about the Arcane Divination Dunny Mini Series is that you can't take it with you and these beautiful things deserve to be seen. The Kidrobot X Arcane Divination Pins are available online now at
here
. Here to discuss more is the one, the only, Chris Holt aka The Toy Viking.  Kidrobot knows that it's been awhile since you've worn the old leather jacket, but you can't reintroduce such an epic piece of clothing without adding some more personality to it.  And since they closed down that airbrush stand in the mall where can you go for all of your embellishment needs?  Worry no more my friends, because it is time to merge your love of toys with your equally strong need to customize your garments.
   What better way to start your journey into the world of pin collecting than with these based on the insanely popular Arcane Divination Dunny series.  These designs are already filled with so much mystery, how could we possibly add any more?  By selling them blind boxed of course!  Each pin you get may be a surprise, but with art from J*Ryu, Jon-Paul Kaiser, Tokyo Jesus, Godmachine, and Camilla d'Errico, they are all equally awesome.  Pick some up at
www.kidrobot.com
and get your new obsession off to a great start.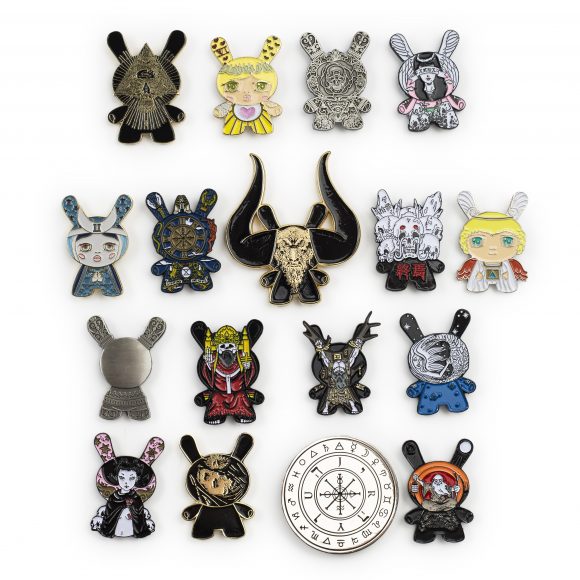 The post Arcane Divination Pins Available on Kidrobot.com appeared first on Kidrobot Blog.
---
Also in Kidrobot Blog
An interesting collectible artist from the sunny sate of California, Ragnar (aka Brandon Ragnar Johnson) was asked to join in the on the fun with the DCON Dunny Art Mini Series and his three toned piece. Want to know a … Continued
The post Kidrobot x DCON Mini Series: Ragnar appeared first on Kidrobot Blog.
Kidrobot is happy to announce another well known artist making his way to the DCON Dunny Mini Series. Working with him since 2004, Deph is here to make a screen in the series.  What are you currently doing in the … Continued
The post Kidrobot x DCON Mini Series: Deph appeared first on Kidrobot Blog.